Humans are 60% water – we're essentially jello with brains and bones – but do you know where the water you drink comes from? It is more than half of every single person on earth's total composition, yet according to the Nature Conservancy, 77% of Americans polled were unable to correctly identify their source of drinking water. (Find out more about the poll.) If the facts and issues around water are not so crystal clear, where do you begin? What can people do? Luckily, Roots & Shoots youth are no ordinary humans; they're made of curiosity and action! (Though still made up of probably close to 60% water.)
Roots & Shoots youth in Colorado are keen observers, just like Jane, and saw that in an arid environment, understanding where water comes from and how it is used in their community at every level is essential. Fresh water is precious: out of 326 million trillion gallons of earths total water, it compromises only 3%. To better understand this resource, students (ages 6-10) at Skyview School of STEM examined the use of water by looking to the sky and what was under their feet – researching water towers and learning about their local watershed (even engineering their own!).
Through the Weld County Well Watch program, students learned how to test water for pH (level of acidity or basicity), temperature, nitrates, dissolved oxygen and the depth of water in their well. Watershed conservation associations were called upon to present in school about how water velocity and flow is tested in streams. Experiments were done on the density of objects in water, how water affected by fracking is cleaned, and what nutrients and water intake plants need to grow strong. They discovered more about water ecology, and learned via lessons from CSU representatives the balance and value of the relationship between water and agriculture.
As the science of water is addressed, so too must the interactions people have with H2O. To accomplish that, students learned about Colorado water law and rights, as well as water use and regulation, which determine so much of our livelihoods and the health of our environments. Looking to expand their reach and education, Great Outdoors Colorado and Roots & Shoots provided the students a mini-grant to create an outdoor property to be a classroom for students and the entire community.
Water is the driving force of all nature. – Leonardo Da Vinci
By addressing every way water is extracted, filtered, measured, channeled, stored, protected, regulated and used, they were not only able to inform themselves, but also shared what they learned with their community. To get local individuals further invested in their knowledge sharing in use and conservation of water, students participated in a water festival. The splashy festival had 15 presenters from the surrounding area, and taught the rest of the student body about what these thirsty for change Roots & Shoots students learned over the year and celebrated their work. The project is fully afloat and trickling into the minds of so many individuals in Colorado, and hopefully many more!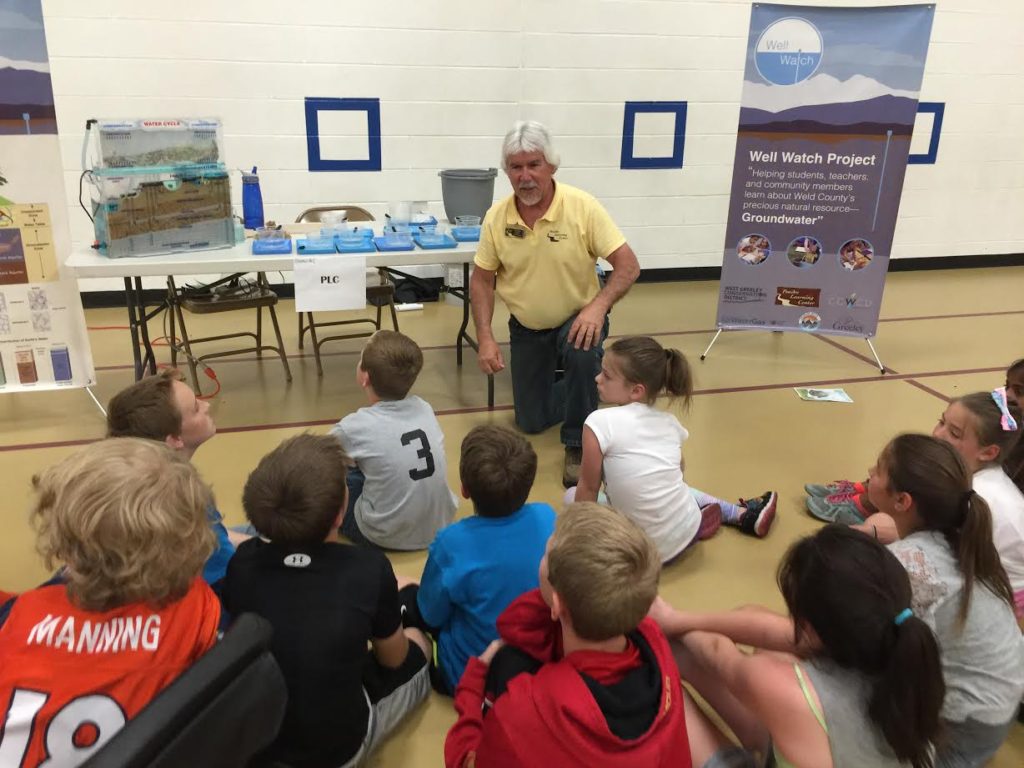 This raging river of action did not stop there and certainly wasn't limited to just water. Students went to Windsor's newest park to design a public awareness sign informing of wildlife dangers that are possible in the park. They also had the opportunity to plant 1 of 10 trees in Gombe Grove with Dr. Jane Goodall herself, with the idea that each tree is dedicated to a chimpanzee dear to Jane's heart. Where this project flows is up to the students, who will start up again and recruit more participants this fall!
The puddles on the side of the road, the rain collecting in our shoes, the rivers we drive over on bridges with lamps fueled by hydro-energy – they are all connected and determine how we use water and live. For our food, our bodies, our planet, ourselves and all living organisms, it is vital that we know as much as we can about this resource on the global and local level. It is not just a river, it is our river; the river which provides us with everything we have. And so, as the understanding of the interconnections of water, our lives and the lives of all living things grows, so too will our effort to conserve and use it wisely. 
Because of continued interest in this Roots & Shoots program, they've grown from a group of 18 to 45, and it has helped established a grant to build a 45,000 sq ft outdoor classroom to serve the community for years to come. The project has run over 40 hours and served over 550 people.
You can learn about other Jane Goodall's Roots & Shoots Program projects and get started on your very own today!