We're guessing that you've probably heard a lot about the importance of recycling. But the truth is that recycling should be a LAST RESORT. The best and first option should always be to REFUSE. Today we will review the Five R's in our journey to recycle as little as possible by refusing as much as we can. Sounds weird right? Well sometimes weird is wonderful – let's find out more!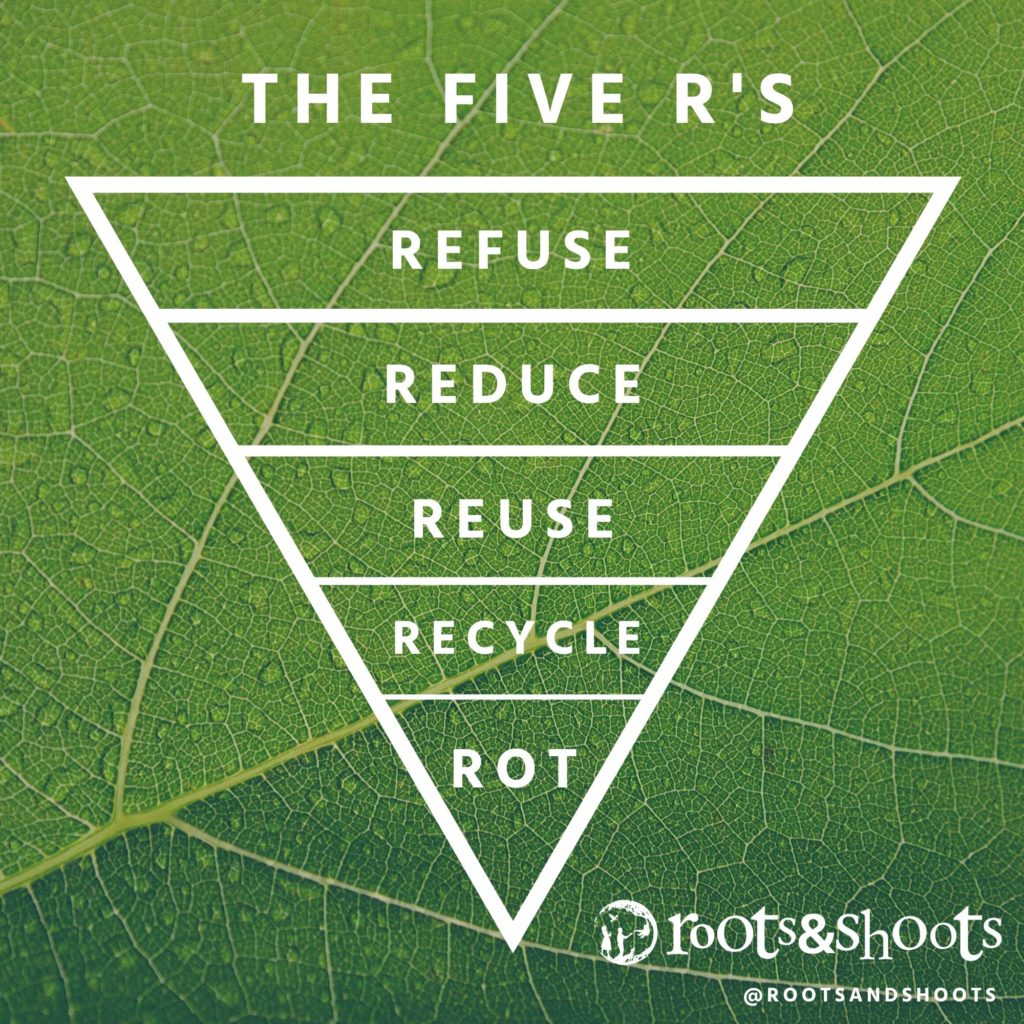 Review the Five R's above, then explore your space and take an assessment of all the disposable items you have purchased that can be replaced by a REUSABLE option or can be REPURPOSED to meet your needs.
REFUSE means being considerate of what you consume/buy and not getting new unnecessary items.
REDUCE means limiting the amount you consume/buy.
REUSE means making old things new to cover for the functions of things you would ordinarily buy new.
RECYCLE means turning old things into new things by properly recycling used goods.
ROT means turning your food scraps and other waste into soil through composting!
The planet will thank you, and so will your pockets (this will help you save lots of $$$)! These options should take into consideration the needs of every individual – for hygienic, personal and other reasons, feel confident only adapting reusable options to more sustainable options wherever is appropriate or comfortable for you. Also make sure to SAFELY DONATE any single use items you no longer need. 
DO A WASTE AUDIT USING FIVE R'S
Take a tour of your space to take the following inventory. 
List all the disposable items you have in your kitchen/space. Example:
Paper towels 
Plastic zip lock bags 
Paper plates  
Plastic/paper cups
2. Next, review your list and get creative. Are there alternatives that you can think of to replace your need to buy each these single-use items in the future?  Example: 
Paper towels could be replaced with cloth rags.  
Plastic zip lock bags could be replaced with reusable containers 
3. Finally, brainstorm where you can REPURPOSE things you already have to fill your reusable alternative list. 
Paper towels > cloth rags > old cotton t-shirts 
Plastic zip lock bags > reusable containers > glass jam jars from the recycling bin 
>> Lastly, what can you do with the single use items (such as paper towels) that you now realize you no longer need? 
 
Consider donating anything sealed to first responders, hospitals or other community serving individuals or groups during this time. 
*During the Covid-19 crisis, we want everyone to follow the strict CDC guidelines and keep themselves as safe as possible by practicing excellent hygiene and health safety. Apply the Five R's whenever possible while you do it! *  
---

The Jane Goodall Institute is a global community conservation organization that advances the vision and work of Dr. Jane Goodall. By protecting chimpanzees and inspiring people to conserve the natural world we all share, we improve the lives of people, animals and the environment. Everything is connected—everyone can make a difference.