Blood rushes through your veins as you swim closer to the giant lurking in the shadows. Your hands shake holding your camera, ready to get the video of a lifetime. The warm Indian Ocean engulfs you as you inch nearer, eager to encounter the biggest fish in the sea: the whale shark.
You stop and ponder, "how close should I get to the shark without disturbing it?" Lucky for you, there's an answer: approximately 3 meters from the shark's head or 4 meters from it's tail.
The answer to this question came on March 3rd, 2017 (World Wildlife Day), when an elaborate, first-of-it's-kind manual was released. "Responsible Shark and Ray Tourism: A Guide to Best Practice" was developed by World Wildlife Foundation (WWF), Project AWARE, and the Manta Trust, with input from industry operators. The goal of this revolutionary new document is to advise operators on how to provide adventurous tours while offering wildlife friendly practices, collaborating with the local community, and successfully running a profitable business.
Previously, shark and ray tourism practices were left entirely up to the tour operators and divers, with no formal guidelines. Since ¼ of shark and ray species are threatened with extinction, the effects of tourism can play crucial roles in their survival. Experts agreed that guidance for best practices was urgently needed to balance conservation and appreciation of the species, as well as economics of local communities.
Shark and ray tourism is a $300+ million dollar industry and is expected to double over the next 20 years. There are nearly 400 current shark and ray tourism operations across 29 countries. This wildlife tourism has huge potential as a conservation strategy, if properly executed.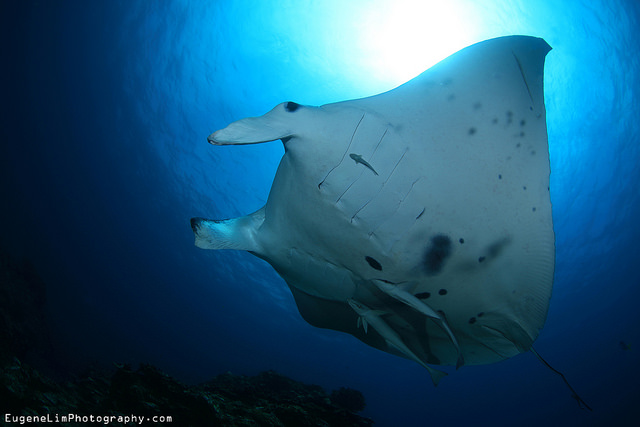 So, what does it mean to be a "Best Practice" operation? There are 4 key values (in no particular order):
Economic viability and a safe customer experience
Low impact on target species and the environment
Culture of continuous improvement and compliance
Social license to operate
The thresher sharks of Monad Shoal in the Philippines provide an example of positive outcomes from community collaboration and best practices. The dive operations at Monad Shoal MPA were established in 2002 and the area was designated as the country's first shark and ray sanctuary in 2015. The Malapascua Marine Protection Fund (MMPF) receives funds from tourists fees and community donations, to uphold the sharks' habitat.
To address the loss of fishermen incomes within the sanctuary, local authorities trained 28 ex-fishermen as Bantay Dagat (Sea Patrol) that enforce fishing regulations. Since the Bantay Dagat's establishment, illegal fishing in the preserve has greatly decreased and shark sightings have increased. This is a great example of successful community-centered conservation. The Jane Goodall Institute recognizes the importance of community-centered conservation and strives to include local people when confronting conservation issues.
While tourism can benefit conservation, bad tourism practices could lead to some disastrous results for conservation. For example, tourists feeding stingrays altered the animals movements and diet in the Grand Cayman islands. Touching or riding sharks could disturb and provoke them, leading to a defensive attack and thus spreading negative perceptions of these creatures. Actions that touch, feed inappropriate food to, or damage the habitat of these species can be detrimental to their success.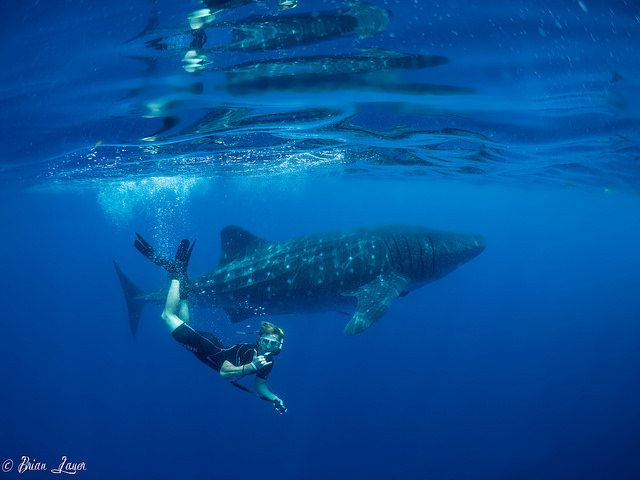 There are still many barriers, both political and social, that need to be ironed out for ensuring survival of sharks and rays. The release of the "Responsible Shark and Ray Tourism: A Guide to Best Practice" is a monumental step towards adapting sustainable tourism practices industry-wide.
If you want to snag an awesome video of that whale shark (and can calm your nerves long enough to do so), make sure to search for an eco-friendly dive operation at Sustainable Shark Diving.