The world needs two kinds of people – tree huggers AND tree defenders. Well, perhaps the world needs many more sorts of people than just those two: but most critically for conservation work are those who love, research and share information about natural environments, as well as the brave individuals who protect those areas from harm. This day is for the Rangers.
On the 31st of July each year, we commemorate Rangers killed or injured in the line of duty, along with the outstanding everyday work Rangers do to protect the earth's cultural and natural wonders. In collaboration with the Thin Green Line Foundation, International Ranger Federation, JGI and our supporters we thank, truly and deeply, the unflinching heroism of people in the field making sure that our wild places remain wild, and safe. We would especially like to thank our Eco-Guards ever present at our Chimp Rehabilitation center at Tchimpounga.
For World Ranger Day, Dr. Jane Goodall and JGI have a special message for Rangers:
Jane and JGI have a long history with Rangers and rely on these strong allies to keep our conservation initiatives functioning and progressing. In our many protected areas of research and conservation throughout Africa, we depend on Rangers for everything from:
Resource protection/management
Public safety
Patrolling grounds
Enforcing regulations
Conducting investigations
Performing search and rescues
Assistance in medical emergencies
and arguably most imperatively: Preventing wildlife poaching
In the Congo Basin, poachers kill thousands of chimps as a part of the illegal bushmeat trade, allowing only the smallest to live to be sold off as pets. The animal lives saved is an enormous figure directly thanks to the work of Rangers preventing these poachers from succeeding. Without these protectors, beautiful beings like this may be gone from this world forever.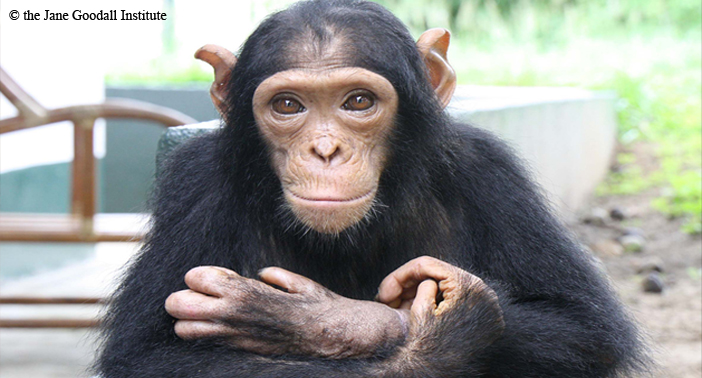 "In the past 10 years alone it's estimated that over 1000 park rangers have been killed, 80% of them by commercial poachers and armed militia groups." [Thin Green Line]
These champions of nature deserve boundless respect, admiration, acknowledgement and support. Show these powerful, peace loving Rangers you care by signing this poster and taking a photo tagging @janegoodallinst, @thingreenline1, #internationalrangerfederation and any of the following – #worldrangerday #standwithrangers #naturesprotectors #thingreenlinefoundation